All the Jills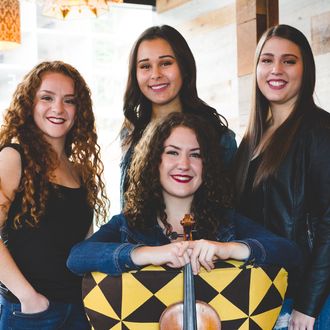 The Lumber Jills
NATIONAL & INTERNATIONAL TOURING ARTISTS
Canadian 2020 Folk Music Award Nominees, The Lumber Jills are a celebrated touring cast of 'Old Time' Fiddlers, pianists and step dancers from Moncton, New Brunswick, Canada.
Since 2014, Amélie de Arcos, Janelle Melanson, Martha Pitre and Machaela Osowski have represented this heritage and traditional genre of fiddling and The New Brunswick Old Time Fiddle Company, under the artistic direction of Stacey Read. 
Having toured Northern Ireland they have also performed at The Hebridean Celtic Festival in Scotland, Schots and Zilleghem Folk Festivals in Belgium, The National Celtic Festival of Australia, The Festival Acadien et Creoles in Lousiana and in late 2019 performed with legendary Canadian Tom Cochrane on his classic songs. They've also appeared closer to home at The Stan Rogers Folk Festival, Winnipeg Folk Festival, Lunenburg Folk Festival, Folk Alliance International and Festival of Small Halls among other notable Canadian events.
Showing their technical strokes; the show is a presentation of beloved tunes, discovered melodies, flying bows and feet; and tender sweet waltzes, harkening back to another time.
Preserving and promoting "Old Time" Fiddle, celebrating New Brunswick composers and performers; their debut album arrived in Spring of 2019 to do just that.
www.thelumberjillsfiddle.com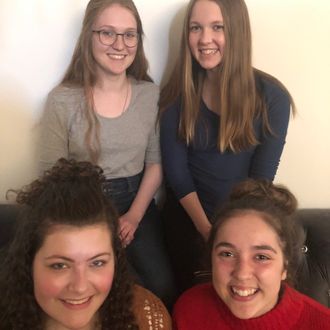 The Junior Jills
Regional Touring Youth Group
Sackville, New Brunswick has a strong 'Old Time' fiddle tradition, cemented in part by the legendary fiddler Curtis Hicks.  Born in the farming community of nearby Midgic in 1915; he was five years old when his parents took him to a house dance and he heard a fiddle for the first time. He would later attempt unsuccessfully, to make a fiddle out of a shingle and rabbit wire.
Curtis would raise his son Ivan Hicks to carry on the legacy at The Fawcett Dance Hall when he was only 9 years old and Ivan began teaching Stacey Read in the late 1980's when she was just 4 years old. Today Stacey is founder of The New Brunswick Old Time Fiddle Co.; home of The Lumber Jills, The Junior Jills and The Little Jills who are based still…in the fiddling town of Sackville over 100 years later.
The Junior Jills are the intermediate group, aged 14 - 19 years of age. With real fiddles (not created from shingles or any rabbit wire to speak of..) Colleen Wade, Hannah Wade, Julie Smith and Berea Hubick are proud to carry on the fiddling traditions of Sackville, from barns to stages around the region. In 2020 they will tour Scotland.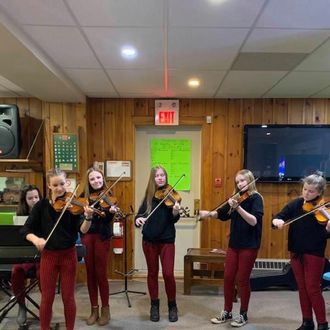 The Lil' Jills
Local TOURING StUDENTS
Fiddle has always started at home. These exceptional young players have shown great commitment to 'Old Time' fiddle and are performing locally with great success.
As part of The New Brunswick Old Time Fiddle Co. they have learned not only their fiddle tunes but how to delight local audiences with their commitment to the genre.
The have appeared at The Moncton Highland Games in 2019 and other special events in Sackville and South Eastern New Brunswick.